Remember, Reflect, Reimagine: Illustration for Spatial Justice (2021–2022)
Urbano Project
 is a nonprofit that brings together practicing visual artists, local youth, and community members to learn and experiment through place-based projects. We foster public and participatory art as a vehicle for personal transformation, community cohesion, and social change.
For 2021, Urbano sought out community artist projects that focused on the theme of DEMOCRACY - how can artists help exemplify practices in
community organizing,
placemaking, public art, activism, social practice, institutional critique,

and

participatory artmaking?
 The program sought projects that explored individual, collective, and intersectional interpretations of democracy, with topics including representation, inclusion, participation, collaboration, accessibility, human rights advocacy, mutual aid, capitalism, and other social systems and civic dialogues.
REMEMBER, REFLECT, REIMAGINE: Illustration for Spatial Justice
For the Fall 2021 DEMOCRACY residency, I taught the Youth Artist Project "Remember, Reflect, Reimagine: Illustration for Spatial Justice" which focused on how illustration can tell stories about community and belonging. Students learned how to use illustration as a mindful method of observation and imagination to envision healthy, equitable public spaces in our communities.
Through journalistic drawing, Youth Artists holistically documented both natural and human-made spaces around Boston, and contemplate what these spaces mean to us. Discussions, readings, and visiting artists centered on community development and explored how art can hold space for reflection and reenvisioning in our neighborhoods. 
Each field trip started with a lecture and the remaining time dedicated to drawing prompts that invited students to explore the area and contemplate the meaning of a place. In addition to drawing prompts, topics covered during classes included placemaking/keeping, gentrification, community organizing, radical imagination, identity, and the meaning of "community."
FIELD TRIP - Ruggles Mbta Station + Southwest Corridor Park​​​​​​​
Outdoor space, Community Organizing
"Public space as our classroom! Youth Artists took to Ruggles Station & Southwest Corridor Park. We learned about the park's history in anti-highway community activism and practiced our observational drawing skills. Some of our final illustrations captured scenes among people in the park, while others totally reimagined the design and function of the T-station!" -urbanoproject.org
FIELD TRIP - Prudential Center
Urban Renewal, Gentrification, People Watching
"At the Prudential Center, we learned about the history of urban renewal associated with the building's rise, and discussed ideas of gentrification, housing inequality, capitalism, etc. From people-watching, we then created imaginative drawings in connection with the Prudential's history and impact." -urbanoproject.org
FIELD TRIP - Boston Public Library People in Space, Illustration Styles
"People-watching and sketching at BPL Boston! Youth Artists learned about composition, proportion, gesture, and other key concepts while drawing people in the library in imaginative scenes."
-urbanoproject.org
COLLECTIVE MAP
As a collective visual to tie all of the projects together, this map of Boston shows each student's work in context. We included other elements to make this map unique by including favorite foods, libraries, community members, animal, and other things that remind us of home.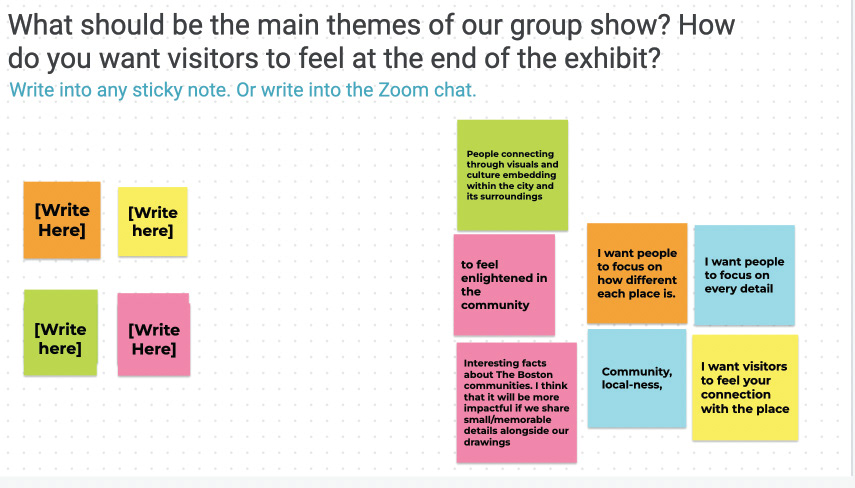 ICA TEENS EXHIBIT AND RECEPTION March 2022
Urbano and I worked with the Institute of Contemporary Art Boston's Teen Exhibitions Program to develop
Pinpoint Boston
. The young people in the program designed the layout of the Urbano teen illustrations and organized the opening night reception, including an interactive storytelling activity that encouraged visitors to make their own map. We had a total of 141 people walk through the space the first night.
Special thanks to Nohemi Rodriguez, Betsy Gibbons, Maria Fernanda Mancera, Stella Aguirre, Gina Linder, Urbano Youth Artists, and ICA Teen Artists for bringing this project full circle!